Transaction Center & VPOS Support
Reporting and Metrics in the Transaction Center allows you to generate reports with the criteria of your choosing as a way of making sense of your transactions. You should see the reporting/metrics menu at the top of the transaction center with three options:
Create Report
Download Report
Report Center
When you click on Create Report, you are presented with the 3 major options for your report.
Delivery Method
This can be selected as Download or Email. If 'Download' is selected then the report can be downloaded from the Transaction Center when ready. If 'Email' is selected, a box will appear that asks for an email address. The report will be sent to the address specified when ready.
Report Format
For your convenience, the report you generate can exist in a number of different formats. The formats offered are:
Tab Delimited
CSV
XML
Excel
QuickBooks
Please note that only one format per report can be selected. You would need to create the report again if you need it in a different format.
Report Type
The report type determines what kinds of transactions to look for. Depending on the option you choose here, you will have some items to fill out specific to the report type and other items that are related to transaction details.
Scheduled
If this option is selected there are extra criteria for the report as follows:

Depending on the frequency, it will ask you to designate the end of the day/week/month/year.
Year End
This will create a report for the last complete calendar year. The Transaction Center will specify which dates the report will be applicable for.
Monthly
You will be asked to choose which month in which year to run the report for. The options displayed will only be for the last 6 months (if there are months prior with transactions).
Free Form
You will be asked to select a start date and end date.
Batch Results (Scheduled)
Scheduling options as explained above need to be set for this report.
Batch Summary (Scheduled)
Scheduling options as explained above need to be set for this report.
Recurring Billing
You will be asked to specify recurring status and type, as follows:

The status is simply deciding between what has already been run and what has not been run yet. The recurring type is the same as what would be set for the transactions themselves.
CIM
This report is automatic. Selecting this eliminates all other options.
Post Later
You will be asked to specify a Start Date and End Date. This will eliminate all other options EXCEPT 'Include the following transactions in my report'
General Transaction Criteria
As long as a timeframe is specified, you may leave all the other fields blank and the report will try to pull the information from all transactions. However, it is recommended that you try to be as specific as possible.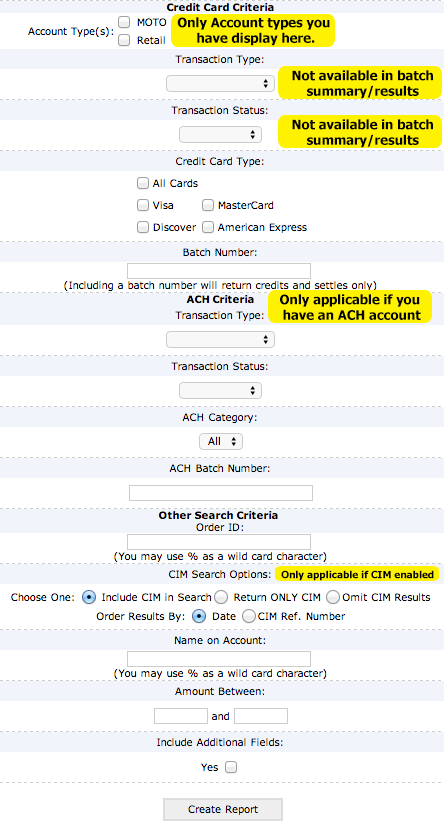 If you have created a report that is not running on a schedule for download, it will be available here with a link to download.
If you have created any scheduled reports, they will appear here as follows:

Clicking Edit will allow you to change report parameters.
Clicking Download Latest will allow you to download the most recently ran report as per its schedule,
There is not currently a way to view older versions of the same scheduled report.